York Gazette Nov 10, 1999
By Susan Scott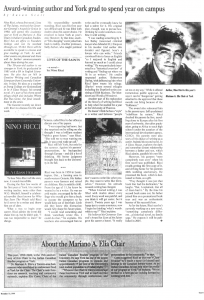 Nino Ricci, whose first novel, Lives of The Saints, received the Governor General's Award for fiction in 1990, will spend this academic year at York as a writer in residence at the Mariano A. Elia Chair in Italian-Canadian Studies. Ricci has an office in Founders College and can be reached through ext. 55184. Ricci will be available to speak to classes and give readings at York. As well, other events are planned and there will be further announcements about these during the year.
The 39-year-old author is no stranger to York; he graduated in 1981 with a BA in English Literature. He also has an MA in Creative Writing and Canadian Literature from Concordia University. In fact, his days as a student at Stong College are fictionalized in In A Glass House, his second novel. It's part of his three-novel trilogy which also includes Where She Has Gone, the final volume in the series.
The Gazette recently sat down with Ricci to discuss his life and work.
To hear Nino Ricci tell the story now, it sounds incredible.
During the first few weeks of his first year at York, his creative writing teacher, none other than W.O. Mitchell, himself a celebrated novelist (best known for Who Has Seen The Wind) told Ricci he'd never be a writer and threw him out of class.
What a way to begin your career. Ricci admits the event did shake him up, but he didn't quit. "I was too responsible to leave" he shrugs.
His responsibility notwithstanding, Ricci says his first year was difficult and he was filled with doubts about his career choice. He resolved to leave York at year's end. However, by that time, another "life-changing" event jolted him back to reality. Another professor, Sally Zerker, who taught political science, called Ricci to her office to discuss one of his papers.
"I was expecting bad news, but she surprised me by telling me she thought I was a brilliant student with a great future," says Ricci. "She told me to stop wasting my life. It was a real wake up call."
Ricci still left York, but only for the summer. Against his parents' protestations, he backpacked through Europe – and did a lot of thinking. His better judgment brought him back to the University in the fall.
* * *
Ricci was born in 1959 in Leamington, Ont., a farming area in south-western Ontario. His Italian parents were farmers and raised six children, with their son Ricci a middle child. From the age of 11, he knew he wanted to be a writer. He was an avid reader, encouraged by his siblings who would give him a book to occupy the youngster so he would keep out of their hair. Little did they know this distraction would help shape his future plans.
"I would read something and think 'somebody wrote this, I could do that,'" he explains. His teachers also encouraged him to write and he eventually knew he had a talent for it. His original plan, though, was to pursue law, thinking he could somehow combine it with writing.
"I was reading something by F. Lee Bailey (renowned criminal lawyer who defended O.J. Simpson in his murder trial earlier this decade) and figured, here's a lawyer who can write." Friends convinced him to focus on English "so I majored in English and learned as much as I could about writing." He was particularly interested in a "historical overview" of writing and "finding out where we fit in as writers." He credits respected author, Robertson Davies, with influencing him when Ricci later wrote his trilogy. (Davies' wrote several trilogies including the Deptford series consisting of Fifth Business, The Manticore and World of Wonders).
Another part of his exploration of the history of writing led Ricci to Italy where he studied for a year at the University of Florence.
He doesn't think he has a "style" as a writer and believes "people don't want to write like other people, they want to write like themselves." However, his attitude towards writing has changed.
"When I started writing, I was filled with doubts about every word. Every word was painful, and you think it will get easier, but it doesn't. Twenty years ago I was happy just to create a sentence, now I begin by thinking 'what's worthwhile to say?'" Ricci explains.
He believes his Governor General's Award for Lives of the Saints gave his career a boost. "It really set me on my way." While it offered tremendous public approval, he says it can be "dangerous" getting attached to the approval that these awards can bring because of the "fickleness."
The award also redeemed him in his parents eyes. Self-proclaimed "rebellious by nature," Ricci shocked his parents by first, travelling alone to Europe after his first year of university, then after graduation, going to Africa to teach high school (under the auspices of the international development agency, CUSO). His parents were also wary of his choice of writing as a career. Indeed, his second novel, In A Glass House, explores the dark and somewhat distant relationship between a father and son, which Ricci admits, parallels his own life.
However, his parents "were completely won over" when his first novel was published. Ricci recalls getting the first copy of it, and driving home for his parents 40th wedding anniversary. He presented the book, which is dedicated to them, as a gift.
"They thought it was just that book that had the dedication," he laughs. "But, I explained, that all of them had it." By the time his second book came out, his father joined him on a promotional book tour and was an enthusiastic booster of his successful son.
As for the future, Ricci says he's currently working on a new novel, "something completely different…a historical novel, no family saga." He expects it will be published in 2001.
About The Mariano A. Elia Chair
This year, 1999-2000, is the 15th anniversary of this Chair in Italian-Canadian Studies program at York.
Dr. Mariano A. Elia is a Toronto-area businessman who established an endowment fund at York for the Chair. The Chair's main functions are research, teaching, and community outreach, explains Elio Costa, director of the Chair's Italian-Canadian Studies program at the University. He says York has one of the largest Italian-Canadian programs in Canada, and approximately 17 per cent of the University's total student population is of Italian origin.
"Whoever the director of the Chair is tries to encourage these functions at York and to reach out into the community through conferences, and presentations in the community," he says.
Costa suggested Ricci for the Chair program this year because "he's made a name for himself and belongs to the Canadian literary scene. As an Italian Canadian, he can help raise the profile of our program at York," he explains. "We're thrilled he is here and are looking forward to working with him."