An Historical Atlas of Italian Immigration to and Settlement in Ontario
Dr Gabriele Scardellato
Research Fellow, Mariano A. Elia Chair in Italian Canadian Studies
As Research Fellow for the Mariano A. Elia Chair in Italian Canadian Studies, Dr Scardellato is compiling an Historical Atlas of Italian Immigration to and Settlement in Ontario. This will be published both in book form and in the form of a World Wide Web (internet) site that will advance signficantly our knowledge of the settlement of Italians in Canada's largest province. The atlas will develop an aspect of the research agenda that has been suggested by Robert F. Harney and others. In writing about the early migration of Italians to Canada, Harney sounded a note of urgency: "So many of these temporary work sites – railway spurs, played-out mines, stands of timber, blasting locations in mountain passes, failed agricultural colonies – were once important to the psychic maps of Italian-Canadian workers and now live only in the memories of old men that a Canadian Italian Historical Atlas, one that would locate, map and describe all these lost settlements, must be undertaken soon if the real history of Italians in Canada is ever to be written." The research will help with the recovery of these memories and with sharing them with a larger audience.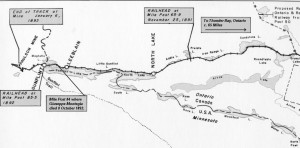 Such recovered memories might include, for example, the memorial at the site of a lethal explosion that occurred in October 1892 at Milepost 84 during the last phases of construction of the Port Arthur, Duluth & Western Railway in northwestern Ontario. Some 85 miles of railway was constructed to the west from what was then Port Arthur (now Thunder Bay), Ontario to reach the silver mines located across the international border in northern Minnesota in the United States. The explosion took the life of Giuseppe (Joseph) Montegia who was later buried in St Andrew's Catholic Cemetery in Thunder Bay. "Saddened co-workers marked the scene of the tragedy by chiselling a faceted cross into the stark black rock face, at the window level of passing trains. Today the unique memorial remains unmarred by time" [Elinor Barr, Thunder Bay to Gunflint: The Port Arthur Duluth & Western Railway (Thunder Bay, Ont.: The Thunder Bay Historical Museum Society, 1999), p. 68.]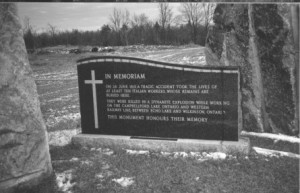 A similar site was memorialized more recently in east-central Ontario in the small settlement of Chippewa, located some forty kilometres northwest of Kingston, Ontario. Through the efforts of Mr Phil Quattrocchi and other Italian-Canadian residents of Kingston an (unknown) number of Italians, victims of a 1913 railway construction accident that occurred on the Campbellford, Lake Ontario and Western Railway line between Echo Lake and Wilkinson, Ontario have been remembered. The victims – probably more than ten men – of a dynamite explosion at Echo Lake near Chippewa, are now buried in a corner of the Chippewa cemetery where, in 1990, a memorial was unveiled to commemorate their deaths.
Apart from moments in the history of the Italian presence in Ontario like these the atlas also will trace the fortunes of the descendants of those "old men" as they settled across Ontario. For each community that is included in the atlas an effort will be made to provide similar information about each enclave. This will include an overview of the general rationale (economic and other) behind the formation of an enclave, changes over time in the size of the enclave based on census and similar data, the evolution of social or institutional structures within given enclaves, and so forth. Part of the work proposed for this project is the compilation of contemporary (2001) demographic and socio-economic data about all Italian-origin residents of communities in Ontario.
Sarnia, Ontario, for example, currently boasts an Italian-Canadian population of well over 2,500 most of whom arrived through chain-migration sponsorship after the Second World War. The Italian-Canadian community in Sarnia includes several several social and other clubs and a cultural centre and it ranks among its members many successful business men and women, professionals, a local M.P.P. and so forth. Long before this post-war settlement and growth, however, there was a small group of Italian migrants and immigrants in the town and its environs. These included crews of migrant workers imported by local contractors to pave the streets of the young town in the early 1900s or well before them, the likes of a certain Mr Ribighini who "prospected" in the 1880s in Petrolia, near to Sarnia, for "black gold." These early migrants were followed in the inter-war period by a number of families who settled because their breadwinners were able to find employment in local industries like Holmes Goundry and Imperial Oil. It was this early settlement that made possible substantial immigration from the early 1950s.
As noted, the research findings will be produced in two formats. The first will be a traditional, print-based historical atlas that incorporates a sequence of maps depicting the development of Italian-origin settlement in the province and including historical chapters describing the various phases of immigration and their impact on any given community. Photographic and similar material could also be incorporated to produce an effective, engaging, and factual source book that would prove of great benefit to anyone engaged in the study of immigration to Ontario. The second will be produced with the use of internet-based technology and it might incorporate, for example, an interactive map of the province that would show, when clicked, data for any given settlement in Ontario known to have (or to have had) an Italian-Canadian population. The data revealed at various "levels" of this map might include deomographic and socio-economic information for given historical moments (possibly decennial) and could be linked with photographic and other materials (including, for example, extracts from oral or video history interviews) where available. Similarly, maps could be "stacked" chronologically so that users could, by clicking through the layers, see changes in local Italian-origin populations over time.
About the Author
Gabriele Scardellato was born in San Giuseppe, Treviso and emigrated to Canada as a young child with his parents in the mid-1950s. He grew up in British Columbia where he attended the University of British Columbia for his BA (1973). This was followed by his Masters degree (1974) from the University of Birmingham, England and his PhD (1983) from the University of British Columbia. He began to pursue his interest in Italian-Canadian immigration history in the early 1970s and completed several research projects on the settlement of Italian immigrants in British Columbia.
Dr Scardellato was hired in 1988 to work as librarian/archivist with the Multicultural History Society of Ontario where he then became director of research resources. His work with the Society included several successful projects including a number of bibliographic compilations and collections guides as well as editorial, bibliographic, and other work with the Encyclopedia of Canada's Peoples (University of Toronto Press, 1999). Dr Scardellato has taught a number of courses on Italian-Canadian culture and history in the Department of Italian Studies at the University of Toronto and more recently in the Department of Languages, Literatures, and Linguistics at York University. He has published widely both in Canadian ethnic studies as well as in Italian-Canadian immigration history including Within Our Temple: A History of the Order Sons of Italy of Ontario (Toronto, 1995) and with Manuela Scarci (eds.), A Monument For Italian Canadians: Regional Migration from Italy to Canada (Toronto, 1997).